Dual Charger
Balance energy betwen plugs
Dual Station is a new generation up to 40kW charging stations from AE Charge Point.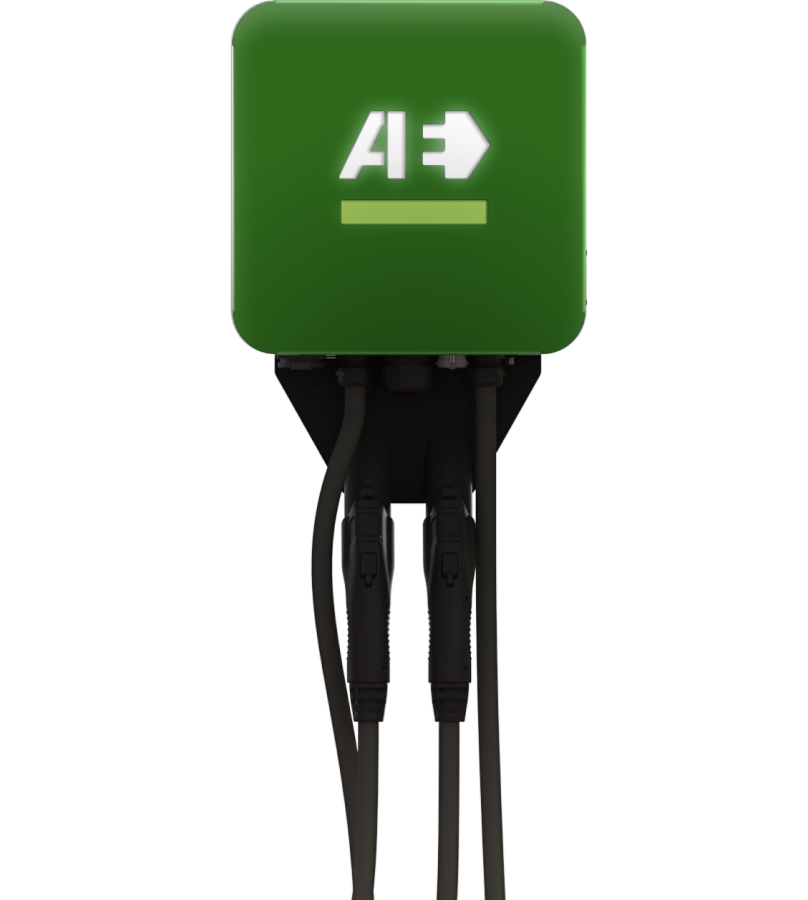 Station specification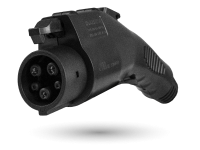 J1772 (Type 1)
208/240V / 80А / 19kW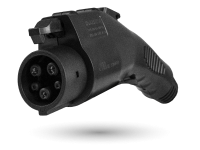 J1772 (Type 1)
208/240V / 80А / 19kW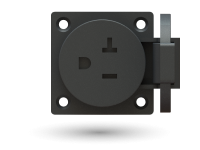 E-bike socket
110V / 16А / 1.7kW
Mounting:
Wall-mounted
Pedestal (on a concrete base)
Charging station size:
Wall mounting:
21.85x14.37х5.20 inch / 555x365x132 mm
Floor mounting:
76.46x25.16x11.42 inch / 1942х639х290 mm

Length of cables:
From 21.33 ft / 6.5 m
Information display:
Two-line LED backlit
Supports ASCII
Enclosure:
Steel anti-corrosion coating
Input/Output 208/240v
Minimum - 12A
Maximum - 80A
OCPP protocol support:
1,6 JSON
Access and activation:
RFID cards (Mifare standard), local list memory - 10000+
cards Mobile application P&C by VIN code / credit card
terminal choosed by owner
Payment by credit card:
Recommend payment terminal Ingenico iUC180 / iUC180B terminal. (Only for special orders)
Support for the following payment methods:
Online terminal, Visa, MasterСard, American Express,
Apple Pay, Google Pay, and any other choosed by owner
Protective equipment:
The charging station is equipped with a controller with an
electronic RCD (20mA, 2 phases) and ground control
Enclosure protection class Type 3
Mechanical protection class IK10
Operating temperature range:
From -35°C to +50 °C / -31°F to +122°F
Charging station manufacturer:
Ukraine or USA
CE, ISO, EAC etc. certified
UL\CUL certified
(In progress)
The number of cars that can be charged at the same time:
2 cars(type1 j1772 ) + 1 Socket ( 110V 16A)
Tested with all EV cars and Plug-in Hybrid models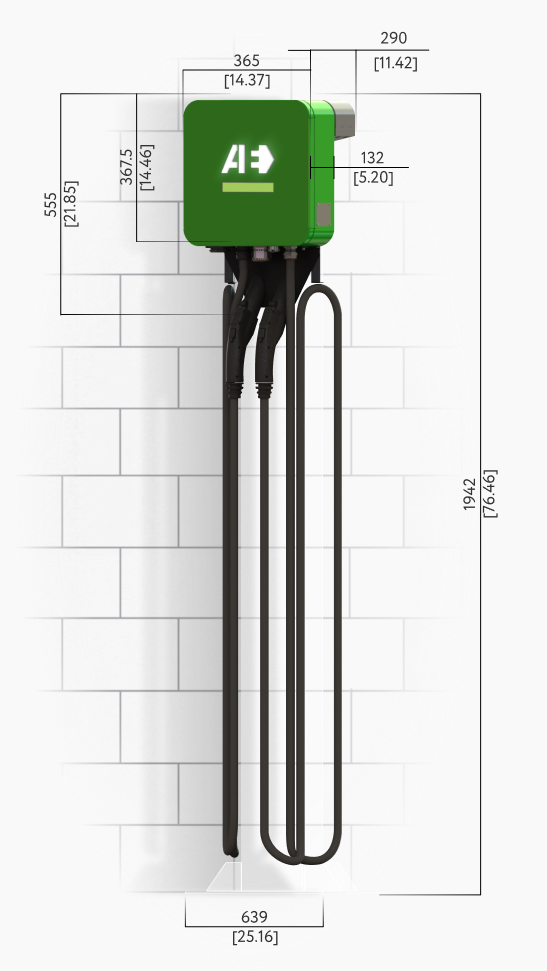 Complete installation and operating instructions
Check out the detailed technical characteristics and rules of operation of the charging station.
Download instruction >
Branding your charging station
We can brand the charging station according to your brand book. Painting the stations in your corporate colors, applying slogans, logos and other identities of your company will create a unique style of the charging station.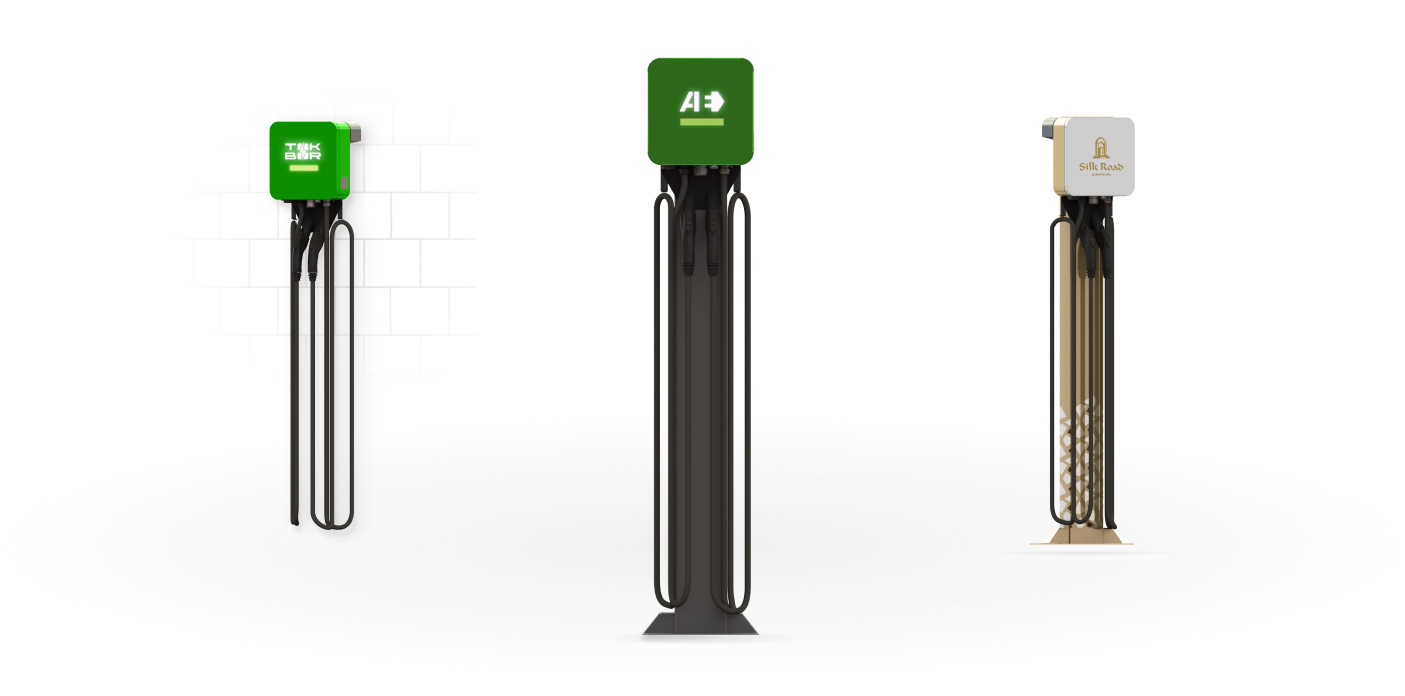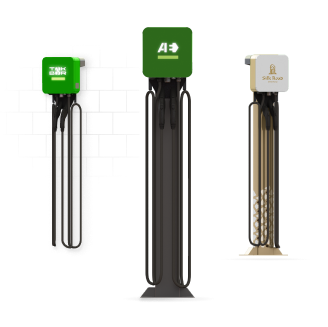 Our partner Charger System Inc
For clients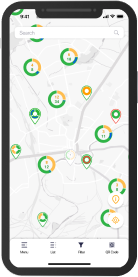 Advanced approach to UX and UI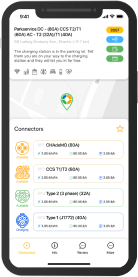 Regular updates, new features, etc.
For business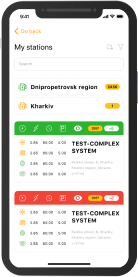 Manage your EV charging network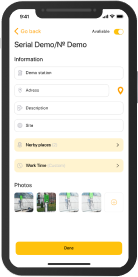 Edit station information and functions in your app
Visit web-site >
CS Cloud
Charger System Inc provides customers with a cloud-connected product that allows charging stations to operate on the same network.
Mobile Apps for clients
Online support adn diagnostic
Online config and updates
Transaction manager
Billing system
Our certificates
Independent organizations worldwide confirm the highest quality of AE Charge Point stations.

We sell our products well in Europe, the USA, Israel, and Canada.